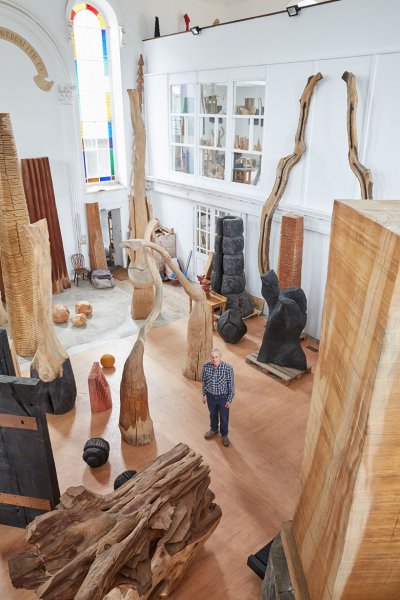 David Nash
Sculpte le bois avec les techniques du menuisier et exploite les irrégularités et les formes initiales du bois.
Il se situe dans la tradition du paysagisme anglais et évolue vers une intervention minimale proche du land art, avec une note d'humour grinçant qui signale l'improbable accord entre le travail humain et les forces même de la nature.
David Nash est né en 1945 à Esher en Angleterre. Il vit et travaille à Blaenau Ffestiniog, dans le nord du pays de Galles.
Expositions :
2016 Galerie Lelong, Paris - FRANCE Gallerja Roma – ITALIA
2015-16 Three Black Humps, 2015, Oak, charred, in three parts, at Coalbrookdale Museum of Iron 2015-16 King & Queen I, 2011, Bronze, Keepers House The Royal Academy
2014–15 David Nash Stencil Prints, Abbot's Room, Kloster Schoenthal, SwitzwerlAnd
2014 Galerie Lelong, Paris - FRANCE
David Nash, Kukje Gallery, Seoul
2013 Domaine de Chaumont-sur-Loire - FRANCE
Royal Botanic Garden, Kew Gardens London - UNITED KINGDOM 2012–13 David Nash at Kew Gardens, Kew Royal Botanic Gardens, Surrey
2012 Galerie Lelong, Paris - FRANCE
Galerie Lelong, Zurich – SUISSE
Lines and Smudges, Annely Juda Fine Art, London
2011 Parc de sculptures du Yorkshire, Wakefield - ROYAUME UNI
Oriel Mostyn Gallery, Llandudno
2010 Recent Sculptures and Colour Works Annely Juda Fine Art, London
Yorkshire Sculpture Park
Royal academy, Londres - ROYAUME UNI
2009 Abbot Hall art gallery, Kendal Cumbria - ROYAUME UNI
Monumental Sculptures Kunsthalle Mannheim, Allemagne 2008 Kunsthalle Emden, Allemagne
Sinclair Haus, Bad Homburg, Germany
Kunsthalle Mannheim, Germany
Galeria Alvaro Alcazar, Madrid
ALTANA Kulturstiftung, Bad Homburg – Allemagne
2007 Quand les sculpteurs gravent... Galerie Chantal Bamberger Strasbourg FRANCE
2006 Konstruktiv Tendens, Stockholm – SUEDE 2005 Musée d'Angers, Angers - FRANCE
Kunsthalle Würth, Künzelsau – Allemagne
2004 Royal Academy of Arts, London - ROYAUME UNI
Galerie Lelong Paris - FRANCE
Tate St Ives, Cornwall - ROYAUME UNI
2003 Gerhard Marcks Haus, Bremen - ALLEMAGNE
New Art Centre Sculpture Park, Roche Court - ROYAUME UNI 2002 Galerie Lelong New-York ETATS-UNIS
2000 Galerie Lelong Paris – France
1998 Parc Régional Tournay-Solvay, Brussels – Belgique
1990 Serpentine Gallery, London - ROYAUME UNI
1985 Rijksmuseum Kröller-Müller, Otterlo - PAYS BAS
Selected Collections
Museum of Modern Art, Caracas
National Museum of Wales, Cardiff
Towner Art Gallery, Eastbourne
Scottish National Gallery of Modern Art, Edinburgh Uffizi Gallery, Florence
Grizedale Forest, Cumbria
Hiroshima City Museum of Contemporary Art
Arts Council of Great Britain, London
British Council, London
Contemporary Art Society, London
Government Art Collection, London
Tate Gallery, London
Victoria and Albert Museum, London
Metropolitan Museum of Art, New York
Soloman R Guggenheim Museum, New York Rijksmuseum Kröller-Müller, Otterlo
Art Gallery of Western Australia, Perth
National Museum of Contemporary Art, Seoul Museum of Contemporary Art, Tokyo
Yorkshire Sculpture Park, Wakefield
Piccadilly site
Burlington House, Piccadilly, London, W1J 0BD
Burlington Gardens site
6 Burlington Gardens, London W1S 3ET
David Nash born 1945
Artist biography
English sculptor, land artist and draughtsman. He studied at Kingston College of Art (1963), Brighton College (BA, 1964–7) and Chelsea School of Art (MFA, 1969–70). In 1967 he moved to Blaenau Ffestiniog, Gwynned, a slate-quarrying village, motivated by a desire to escape the 'unnecessarily competitive' metropolitan art world. As a student Nash became interested in the art and writing of China; other interests include the painting of Abstract Expressionist Arshile Gorky, as well as the theoretical implications of Minimalism, although he found much Minimalist work 'completely devoid of the human spirit'. Nash's early works were in part a response to both Minimalism and the sculpture in the New Generation 65 exhibition (1965; London, Whitechapel A.G.), which included work by Philip King and William Tucker. From the late 1960s he developed his holistic approach to art; his first exhibition Briefly Cooked Apples (1973; York Festival) revealed his belief that his activity was a collaboration with nature. The free-standing sculptures were accompanied by a leaflet reproducing his sketches, including some of ways of ordering wood in bundles, stacks or rows. Wood became Nash's primary material, being used in both temporary and permanent land-based works; for Black Dome (1986) 900 lengths of charred larch formed a low dome (c. 7 m diameter) that would eventually be reabsorbed into the soil in the Forest of Dean, England. Nash also had numerous artist residencies in sculpture parks in England.
Bibliography
Sixty Seasons (exh. cat., ed. M. Tooby and C. Carell; Glasgow, Third Eye Cent.; Edinburgh, Fruitmarket Gal.; Llandudno, Mostyn A.G.; Swansea, Vivian A.G. & Mus.; Stoke-on-Trent, City Mus. & A.G.; 1983)
David Nash: Sculpture, 1971–90 (exh. cat., essay by N. Lynton, London, Serpentine Gal.; Cardiff, N. Mus.; Edinburgh, N.G. Mod. A.; 1990)
David Nash: Voyages and Vessels (exh. cat. by G. W. J. Beal, essay by Marina Warner, Omaha, NE, Joslyn A. Mus.; San Diego, CA, Mus. Contemp. A.; Honolulu, HI, Contemp. Mus.; 1994)
Expositions :
Twmps + Eggs, David NASH (19/11/2016 au 14/01/2017)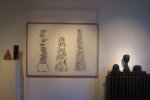 « exposition David Nash »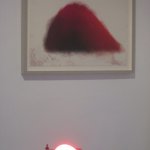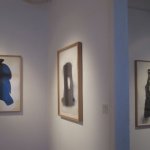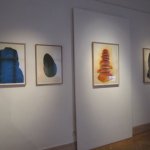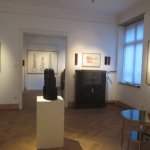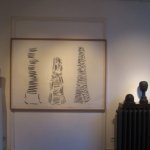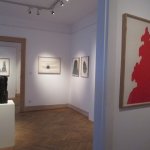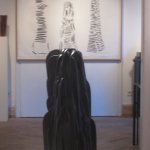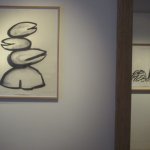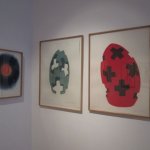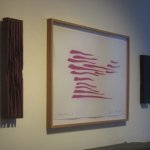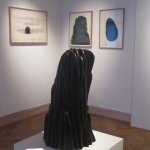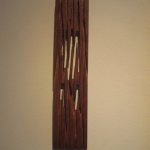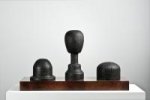 « sculptures, fusains et pochoirs »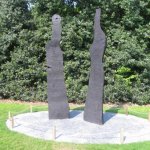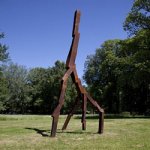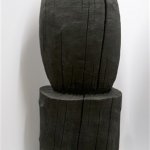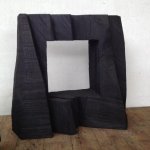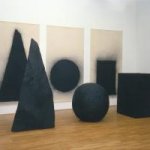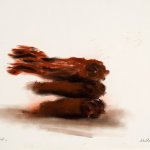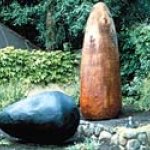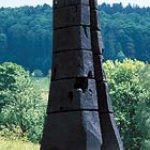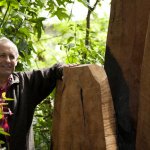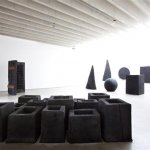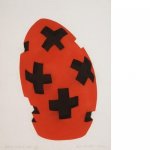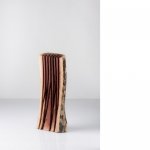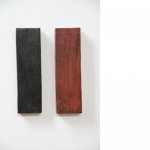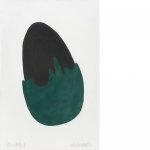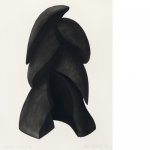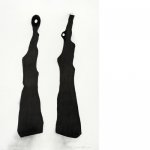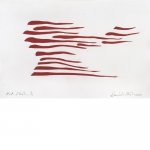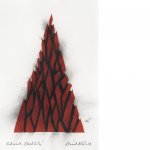 +8